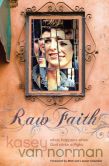 Raw Faith
By Kasey Van Norman
Tyndale
Retail Price $14.99
Amazon Price: $11.09
Book Description: 
As a respected Bible teacher, Kasey Van Norman had dedicated her life to sharing God's Word and encouraging women to trust in God during times of crisis. Then, just as her ministry was poised to explode, Kasey was diagnosed with an aggressive form of cancer that shattered her spirit and rocked her faith to its core. Sick, frightened, and in pain, Kasey suddenly found herself facing the greatest challenge of her life—believing her own message.
In Raw Faith, Kasey chronicles her courageous battle with cancer, taking readers on a candid and poignant journey of faith and discovery, from the depths of despair through triumphant victory.
Drawing on a variety of Bible stories and characters, Kasey discovers and distills the singular truth that has existed since time began: while change and uncertainty are inevitable, God is always unchanging, and He is always faithful—even when our circumstances might tempt us to think otherwise.
Review
Faith is something that is easy to talk about, tell others they should have, and strongly promote to others.  But when life hits you hard, faith is often hard to come by….or it is a process that you have to work through before your faith is made strong.  Author Kasey Van Norman understands this and as a cancer survivor, she shares her story and her faith journey in this book.  As she share her story, you can almost hear her speaking, like she was sitting across from you over a cup of coffee.  Everyone has something in their life that they are battling or have battled and this book helps you work through it and serves as a reminder that we are all a work in progress and that God loves us right where we are.  The book was emotional, that's for sure and it had a big impact on me.  I highly recommend it.
~Reviewed by Allie B.