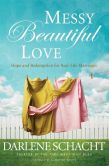 Messy Beautiful Love
By Darlene Schacht
Zondervan
Retail Price $15.99
Amazon Price: $11.95
Book Description:
Messy Beautiful Love delivers an incredible testimony of grace that offers hope for today's marriages and a spark for rekindling love.
Love gets messy. Financial problems, sickness, aging parents, a chronically unhappy spouse . . . trials will inevitably come that threaten your marriage. No matter how long you've been married or how strong your relationship is, sooner or later you are going to have a mess to clean up.
Messy Beautiful Love
is about cleaning up messes God's way, exchanging your ideas for His, and being prepared for both the best and the worst that marriage has to offer.When you surrender your relationship to God, then and only then will you experience the blessing of marriage as He intended. This is the blessing of obedience.
Messy Beautiful Love is an invitation to that obedience. The cynical world says marriages don't last, but God knows better. Tune out the world and tune in to Him. When you do that, a beautiful marriage is not only possible, it's inevitable.
Review
Anyone who has been married any length of time knows that being married is hard work. After a few years it is easy to forget that marriage is a commitment for life, not just for a see how it works or stop until something else comes along. And it takes way more than love to keep a marriage strong.   This book is a quick, easy read and I recommend this book to couples interested in reading it together.  The author gives tools and ideas on how to keep your marriage strong and what you  can do to shore it up.  It covers the basics in marriage, the problems that arise, and how to work through them together.
~Reviewed by David H.