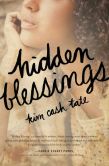 Hidden Blessings
by Kim Cash Tate
Thomas Nelson
Retail Price $15.99
Amazon Price: $11.95
Book Description: 
Diagnosis: breast cancer. Prognosis: terminal. Life: only beginning.
Her diamond caught the sun's rays and refracted glittered light about the room. She'd asked herself again and again: How could she be so blessed? Partner at a prestigious law firm, engaged to the man of her dreams . . . there was no doubt. God had smiled on Kendra Woods.
But the moment Kendra is diagnosed with terminal breast cancer, her world collapses. Within days, Derek backs out of the wedding and the firm suggests a leave of absence during her treatment. Of all the roles Kendra has played over the years—daughter, sister, friend, student, attorney, bride-to-be—cancer patient seems the most unwelcome in the world.
When her path crosses with youth pastor Lance Alexander, Kendra sees only the troublemaker she knew in high school. But Lance could prove an unexpected spark. In the darkness that covers her, will Kendra be able to embrace a glimmer of hope?
Review
This is a very moving story that will touch your very core.  Partly because this could happen in your own life.  You think you have everything you ever dreamed of and then, Bam!  It is all taken away.  The characters in this book are life-like and you go through their dark valleys with them until they come out the other side.  While this book has many sad elements, those are overridden by the hope and joy that the characters experience as God grows them during their trials.  The book flows very nicely and it was hard to put down.  It is a treasure.
~Reviewed by Janice B.