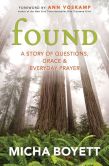 Found
By Micha Boyett
Worthy
Retail Price $14.99
Amazon Price: $11.01
Book Description: 
"My first year of motherhood I lost prayer…"
I lost early mornings of quiet, mornings in my pajamas with a Bible in my lap, mornings when I spoke my mind's chaos into God's ear and let the chaos come back ordered, holy sealed. I lost peace. I lost clarity and certitude. My faith was never perfect before my son was born, but somewhere in that first year, somewhere in my distraction and exhaustion, I lost the Spirit-life I had known. I blamed myself.
Review
I have read Brother Lawrence's Practicing the Presence of God and have enjoyed it, but it never really hit home the way this book did!  California-based mom-blogger Boyett explains that she "lost prayer" when her first child was born and she went looking to get it back by taking a sabbatical at a Benedictine monastery where she quickly sees the similarities in lifestyle and a way to bring balance to her own life. She found her way back to God and a balanced life by studying the  Benedictine Rule, and in this book she shares the insights she has gleaned from her journey.  It is an enlightening, insightful read and I found much to apply to my own life.
~Reviewed by Allie B.