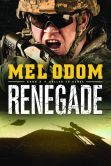 Renegade
By Mel Odom
Tyndale
Retail Price $13.99
Amazon Price: $11.33
Book Description: 
Having grown up in the foster system, Private Pike Morgan's rough exterior and problem with authority earn him few friends among his fellow Marines. When he's not on missions for the Marine Reserve, Pike's rebellious attitude and eagerness for vigilante justice have the local police regularly at his doorstep. Struggling to set down roots, and nervous of his desire to, Pike's eager to answer the military's call for another deployment.
On a peacekeeping mission to Afghanistan, Pike and his squad soon find themselves entrenched in a heated war zone. After an American journalist is kidnapped by known terrorist Zalmai Yaqub, the whereabouts of this al Qaeda leader become a top priority for the American military. But when Yaqub flees to Pakistan, will anyone aid Pike in his hunt, or will this strong Marine find himself without an ally?
Review
The author writes exciting action/adventure stories from a Christian perspective.  In my opinion, there isn't a whole lot of Christian fiction out there that is geared toward men and that is worth reading, but Mel Odom definitely picks up the slack with this series.  Pike is a strong character that is a bit prickly, but he grows on you.  He is a courageous man with a tender heart, willing to stand up for what he believes in, going the extra mile. Odum gives us a strong plot with many twists and some action that a man can sink his teeth into.  This a novel that has some depth to it.
~Reviewed by Dave H.