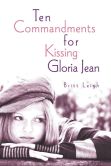 Ten Commandments for Kissing Gloria Jean
By Britt Leigh
Pauline Media
Retail Price $10.99
Amazon Price: $9.85
 Book Description:   Enter into the life of Gloria Jean Wisnewski: a 14-year-old girl who comes up with a very specific set of rules for what thou shalt and thou shalt not do to be granted her long-awaited first kiss. Between best friends, lip gloss, boys, homework, pimples, fashion, cliques, and gossip, Gloria Jean has a lot to keep up with as an eighth grader. Oh, and her public school has just started Sex Ed, which only complicates things even more because she is also taking her first year of Confirmation studies. STIs, STDs, TOB, the four "Fs"…what does it all even mean? As if all of this isn't enough to deal with, Gloria Jean has "The Troubles": cringe-inducing stomach problems that ruin her very first date and cause the most embarrassing moment ever in school. These run-to-the-bathroom bouts are nothing to laugh about-especially when Gloria Jean gets diagnosed with Celiac disease and realizes her condition not only means that she must follow strict dietary rules and avoid contamination from certain products (and people!) but also that she can't receive the Body of Christ! How could this be-a Catholic who can't receive Communion? After all, God made her body. And why does the Catholic Eucharist have to be made out of wheat? What do all of these rules mean, anyway? Looks like Gloria Jean has some figuring out to do.
Review
This is a young adult novel geared toward the teenage girl of faith.  Gloria Jean is a middle school teen with a strong Catholic faith, but she is faced with all the trials and temptations of that age that make good life choices difficult at times.  She wants to stay true to her beliefs, yet does find it challenging at times. The story is quite engaging and the character of Gloria Jean quite loveable.  The author does a great job capturing the mind of young teens with all the hopes, dreams, and confusion that accompanies them.  Both teens and adults alike will find this book a heartwarming, touching read.
~Reviewed by Allie B.