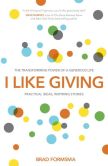 I Like Giving
By Brad Formsma
Waterbrook
Retail Price $14.99
Amazon Price: $11.26
Book Description:
When you choose to live a generous life, you start to change and so does the world around you. Something incredible happens when giving becomes your own idea, not something you do out of duty or obligation.
When you move from awareness to action, miracles happen. As you make giving a lifestyle, you'll realize you're not only loving life more, you're also creating a more generous world— a better world for all of us.
Rich with inspiring stories and practical suggestions, I Like Giving helps you create a lifestyle of generosity. Inside you'll find:
• Giving—something you get to do, not something you've got to do.
• How to raise kids with a sensitivity to others' needs.
• You don't have to be a millionaire to make a difference.
• Practical ideas for giving to people around you every day.
I Like Giving is about experiencing the joy of giving. We all have something to give. Giving goes way beyond money or things. It can be a listening ear, a touch, or simply the gift of time. Giving is living.
Review
I would characterize myself as a giver.  I tend to look out for others and it gives me great joy to give to others.  I've raised my kids to have the same love of giving with varying success.  Some "took" to it more that others, which leads me to believe that temperament has something to do with it.  So when I saw this book, I just had to read it.  I love how the author uses so many different stories to convey the message of generosity for people of all ages. I also appreciate that some of the stories don't require spending a single dollar; they just encourage you to pay attention and to act. I have shared many of the ideas in my own family, who are now adults themselves and with my grandkids. This book is a quick and easy read and will change your attitude towards living a generous life and it is inspirational.
~Reviewed by Rosie B.