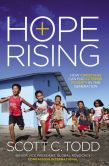 Hope Rising
By Scott C. Todd Ph. D.
Thomas Nelson
Retail Price $15.99
Amazon Price: $11.95
Book Description: 
Extreme poverty does not have to exist. When Christians accept that fact and start living accordingly, we will find the solution is already within our reach.
Worldwide, 18,000 children die from preventable causes every day. If that statistic leaves you feeling powerless, you are not alone—but you are wrong. If a false sense of powerlessness has lulled you into apathy, it's time to shake off the grogginess of low expectations and get to work. We can make this world a place where kids do not die from easily preventable diseases.In
Hope Rising
, Scott Todd of Compassion International pens a galvanizing, comprehensive vision of the movement that will eradicate extreme global poverty through transformative Christian generosity—and do it within our lifetime. Todd provides riveting evidence to show that we are much closer to that goal than you might think.
According to Todd, we live in an historic moment, and chances are you are already part of it. The gospel is already reshaping lives from thoughtless consumption to informed concern. Twenty-first-century Christians are generating multi-continent grassroots movements through communications and travel. Public and private sectors are working together.  It's a whole new era of philanthropy, compassion, and justice aimed at eradicating the pandemic of extreme global poverty.
This is a future we have the God-given power to create. This is the history we hope to write.
As Todd envisions, "The twenty-first-century Christians embraced the entirety of their gospel—the truths it proclaims and the muscles it demands—with a new integrity. They did not deteriorate into humanist liberalism, as some had feared. Nor did they pile works on top of Grace…They simply determined that their world did not need to have children dying of preventable causes such as dirty water."
Review
Some books on alleviating poverty are unrealistic and cause more condemnation and shame than is necessary or even warranted.  I am a firm believer that we are all accountable to help others in our own sphere of influence, so this book hit home with me. This book offers hope not only to those in need, but to those who want to make a difference.  The basic premise is that extreme poverty can be eradicated. Author Scott Todd speaks about our low expectations that extreme poverty can dealt with and then goes about showing how much has truly changed even in the last 20 years. I did not know so many inroads have been made in the war of poverty. I found myself encouraged to continue to do my part.  I highly recommend this book for everyone who believes God can make the impossible possible and wants to do their part in seeing lives changed forever.
~Reviewed by Allie B.