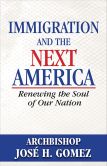 Immigration and the Next America
By Archbishop Jose H. Gomez
Our Sunday Visitor
Retail Price $11.95
Amazon Price: $10.45
Book Description: 
Archbishop José Gomez has written a personal, passionate and practical contribution to the national debate about immigration pointing the way toward a recovery of America's highest ideals.
Immigration is a human rights test of our generation. It's also a defining historical moment for America. The meaning of this hour is that we need to renew our country in the image of her founding promises of universal rights rooted in God. "Immigration is about more than immigration. It's about renewing the soul of America." —Archbishop José H. Gomez
Archbishop José H. Gomez is one of the leading moral voices in the American Catholic Church. He is the Archbishop of Los Angeles, the nation's largest Catholic community and the Chairman of the United States Catholic Bishops Committee on Migration and a papal appointee to the Pontifical Commission for Latin America. Archbishop Gomez is a native of Monterrey, Mexico and a naturalized American citizen.
Review
This beautifully written and much-needed book on the national debate of immigration.  It is well-thought out and well-written, giving common sense solutions to the immigration issue that treat immigrants with respect. The author discusses important areas that are even on the table in Congress at this time, yet are things our government should really look at. This is a balanced book on a difficult topic.
~Reviewed by David H.