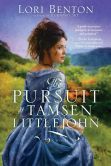 The Pursuit of Tamsen Littlejohn
By Lorie Benton
Waterbrook
Retail Price:  14.99
Amazon Price:  $11.38
Book Description:  In an act of brave defiance, Tamsen Littlejohn escapes the life her harsh stepfather has forced upon her. Forsaking security and an arranged marriage, she enlists frontiersman Jesse Bird to guide her to the Watauga settlement in western North Carolina. But shedding her old life doesn't come without cost. As the two cross a vast mountain wilderness, Tamsen faces hardships that test the limits of her faith and endurance.
Convinced that Tamsen has been kidnapped, wealthy suitor Ambrose Kincaid follows after her, in company with her equally determined stepfather. With trouble in pursuit, Tamsen and Jesse find themselves thrust into the conflict of a divided community of Overmountain settlers. The State of Franklin has been declared, but many remain loyal to North Carolina. With one life left behind and chaos on the horizon, Tamsen struggles to adapt to a life for which she was never prepared. But could this challenging frontier life be what her soul has longed for, what God has been leading her toward? As pursuit draws ever nearer, will her faith see her through the greatest danger of all—loving a man who has risked everything for her?
Review
This was an excellent story. From the moment I began this book I was mesmerized.  The main character is someone we can relate to as as women as she runs the gamut of emotions.  She is at the same time both vulnerable and strong as well as fearful yet courageous. As the novel unfolds we see that Tamsen's selfish and cruel step-father plans on taking advantage of Tamsen's beauty to make a prosperous matrimonial match. He controls her and manipulates her but Tamsen's fiery spirit urges her to flee…straight into the arms of Jesse Bird, who aids her in escaping her father's tyranny. Their escape spurs Tamsen's stepfather and her  intended husband to pursue her. Jesse Bird is a man who knows the terrain and how to keep them one step ahead of the chase. His heart is drawn to the beautiful, vulnerable woman, who entrusts herself into his care, but knows the depth of his feelings are not reciprocated. Tamsen simply doesn't see any other option than to trust him for it would be far worse for her to fall back under her father's control and be forced into a loveless marriage.
The author does a great job of drawing you into the story and you become involved in their lives like they are friends, not characters in a book.  She transports you to a different time and place as she delves into the complexities of the human heart and spirit.  I highly recommend this.  It was a wonderful book.
~Reviewed by Annette E.