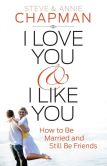 I Love You &  I Like You
By Steve Chapman and Annie Chapman
Harvest House
Retail Price $12.99
Amazon Price: $11.06
Book Description: 
Do you want a healthy marriage that will thrive and grow? Enthusiastically and happily married for more than 38 years, award-winning musicians Steve and Annie Chapman offer you time-tested marriage advice based on their experiences, reading God's Word, conducting marriage seminars, and prayer. They believe that "no marriage is perfect, but all marriages can be successful." You can establish a great Christian marriage by implementing their key principles, including:
creating a positive atmosphere for intimacy
knowing what really makes your mate feel loved
improving your communication skills
working together to set priorities and goals
avoiding money problems by establishing boundaries
Whether you've been together for days or years, I Love You and I Like You offers biblical marriage advice that will help you have a happy marriage overflowing with love and romance.
Review
My daughter is getting married this year and I wanted to get her this book, so I thought I would read it myself first.  I am so glad I did.  While this book gives excellent advice for the couple-to-be or newlyweds, it also is a great reminder for older couples on getting back to the basics and sparking romance in your marriage. There is a lot of great advice here packed in an easy to read, small book, so as not to overwhelm.  I highly recommend it!
~Reviewed by Tricia C.