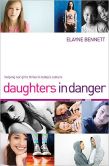 Daughters in Danger
By Dr. Elayne Bennett and Dr. Meg Meeker
Thomas Nelson
Retail Price $24.99
Amazon Price: $15.80
Book Description: 
Respected family advocate Elayne Bennett brings hope and encouragement to families and shows the way to save our daughters from the many threats they face.
Many girls today are caught up in a world that devalues them and prioritizes perceived needs and desires, in ways that will break their very hearts. Much of our culture undermines girls and damages their souls.Elayne Bennett has worked tirelessly in urban, suburban, and rural environments to bring hope and guidance to the lives of girls. In 
Daughters in Danger
 she reveals:
How American families can rescue daughters from the negative and destructive patterns of our culture
Why progressive feminism is the wrong answer and an inadequate solution
How mothers and fathers, sisters and brothers, friends, schools, colleges and universities can be involved in saving our daughters
The success of the Best Friends and Best Men program models
We all—especially families—bear the responsibility for encouraging and supporting, training and directing, loving and cherishing daughters everywhere.  This book is an inspiring call to take action for their sakes.
Review
This was a fascinating read! I learned so much. Now I have more tools by which to teach my young daughter how to be aware of her surroundings. Now I can also be more thoughtful to those around me as we all have different and similar stories. Snap judgments no more; now I pause for more thought. I worry less for our safety because I am teaching my daughter how to be inclusive and open to her environment rather than shuttered off. We are learning to nurture and trust our intuition. We are learning the damage denial can cause and working through our own fears as a family.  This book is a call to action on behalf of our daughters and other young women who need to be mentored.
~Reviewed by Karleigh C.