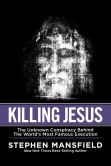 Killing Jesus
By Stephen Mansfield
Worthy Publishing
Retail Price $22.99
Amazon Price: $16.22
Book Description: 
"The execution of Jesus was a crime born of the streets, the barracks, the enclaves of the privileged, and the smoke-filled back rooms of religious and political power brokers. Its meaning lives in these places still."
It is the most fiercely debated murder of all time. Its symbol is worn by billions of people worldwide. Its spiritual meaning is invoked daily in time-honored rituals. In Killing Jesus, New York Times best-selling author Stephen Mansfield masterfully recounts the corrupt trial and grisly execution of Jesus more than two thousand years ago.
Approaching the story at its most human level, Mansfield uses both secular sources and biblical accounts to bring fresh perspective to the human drama, political intrigue, and criminal network behind the killing of the world's most famous man.
Review
Even in an increasing ungodly world, the crucifixion of Jesus goes almost undisputed.  This book brings a fresh look at the death of Christ from an historical perspective.  The author goes into the horrific details of what a crucifixion entails and just what Jesus had to endure.  Along with he also researches the prophecies that were fulfilled, examines the betrayals Jesus faced, and reminds us of the hope we now can have because of His sacrifice.  It was an excellent book giving much background and bringing to life the Easter story.
~Reviewed by David H.