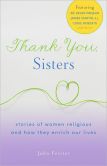 Thank You, Sisters
By John Feister
Franciscan Media
Retail Price $14.99
Amazon Price: $12.48
Book Description: 
Since the April 2012 announcement of the Doctrinal Assessment of the Leadership Conference of Women Religious (LCWR) by the Congregation for the Doctrine of the Faith, there has been considerable media attention focused on Catholic Sisters.The first report, and the consequent naming of bishop-oversight and guidance of LCWR for the next five years, has resulted in an outcry of support for U.S. religious sisters from much of the Church, and a concurrent outcry of support for the Holy See and criticism of sisters from other parts of the Church. There has not been much reliable analysis of this reaction yet: Is it liberal-conservative? Young or old? Neither is the point of this book.
Thank You, Sisters
highlights the positive impact that sisters have had on a cross-section of Catholics. It steps back from finger-pointing and position-taking and simply tells inspiring, true stories of Sisters and the people they have influenced. The book shows the effect religious women have had not only on the U.S. Catholic Church, but on the nation as a whole, in areas such as health care, education, social justice, and pastoral ministry.
The contributors to this book are prominent Catholics who write from a wide range of experience. They include:
James Martin, S.J.
Cokie Roberts
Mary Fishman— producer of Band of Sisters
Adriana Trigiani
Binka Le Breton, on Amazon martyr Sister Dorothy Stang
Maureen Orth
Liz Scott, on Sr. Helen Prejean
Teresa Gardner and Sr. Chris Kenney
Maurice Nutt, C.S.S.R. on Sr. Thea Bowman
Teresa Wilson on Sr. Joan Chittister
Dan Horan, O.F.M.
Review
Written in simple to understand language, this book takes a look at women's history from the perspective of Catholic Sisters and their contributions to society. Many of the Sisters in the book have been social activists, helping to feed the hungry and provide health care to the poor.  Some of the sisters were political activists, fighting for the rights of the those who could not fight themselves.  The work they have done has often been overlooked, but this book seeks to right that wrong and pay tribute to this group of women who are truly an inspiration.
~Reviewed by Fran O.