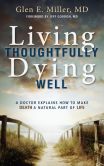 Living Thoughtfully, Dying Well
By Glen E. Miller
Herald Press
Retail Price $12.99
Amazon Price: $10.48
Book Description:
As we grow older we start to wonder about death, asking, How will I die? Will I have a good death? Will I suffer? How will my family respond? How can we manage the dying process better?Dr. Glen E. Miller, a retired physician who also has theological training, had his own wake-up call when he suffered a heart attack and determined to help himself and his patients go gently into that good night. In a candid way, Miller invites readers into conversation about the spirituality of dying as he explores a variety of beliefs about death and dying.With personal advice gleaned from his work with Mother Teresa among the dying of Calcutta, India, Miller provides rich guidance for those who are aging on the process of dying and how to make it better.
Review
Though I've been able to avoid end of life issues most of my life, since hit my 50s it seems like I've been smacked in the face with death.  My father died, among other close relatives.  I found this book helpful in helping me not only deal with the deaths in my life, but my own mortality as well.  The author gave excellent insight into end of life issues I learned something new in every chapter. Would definitely recommend it to family and friends.  It's a good book to keep, and to read more than once, or to keep as a reference to look back on after someone is gone to answer questions you may have and didn't pick up on the first time you read the book.  The author takes a very serious topic and deals with in a fascinating way.
~Reviewed by John C.