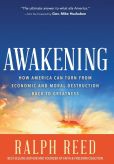 Awakening
By Ralph Reed
Worthy
Retail Price $22.99
Amazon Price: $17.03
Book Description: 
"The ultimate answer to what ails America."
—from the Foreword by Gov. Mike HuckabeeIn Awakening, Reed provides practical steps and a bold plan that will restore America to greatness. Find out how you can be part of the awakening that will re-energize Americans to effective citizenship and renew our core values of faith, personal responsibility, and liberty. Such an awakening can happen today—and it begins with us.
Review
I came across this book a short while ago and found it to be an enlightening read. It's clear that the author has put some thought into his work and has obviously researched his topic and presents difficult information in a user-friendly way.  Though the premise of the book is quite serious, I would consider it an easy read.  What I like best about this book is that while most authors who write to alarm Christians of the decline of  America, this book is really a call to action, giving us steps to take to do our part to bring our Nation back to God.
~Reviewed by David H.