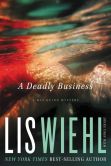 A Deadly Business
By Lis Wiehl
Thomas Nelson
Retail Price $26.99
Amazon Price: $19.56
Book Description:
"Wiehl's experience as a former federal prosecutor gives the narrative an authenticity in its depiction of the criminal justice system. Henry's expertise in writing mysteries and thrillers has placed her on the short-list for the Agatha, Anthony, and Oregon Book awards. The coauthors' . . . fast-paced detective series will keep legal thriller readers and John Grisham fans totally engrossed." —
Library Journal
A prosecutor of violent criminals. A detective on a dangerous beat. When these two pros take on an off-the-books case, the line between professional and personal becomes perilously blurred. 
When a twenty-two-year-old convict walks into the courtroom, his eyes confirm what Mia Quinn already guesses: he blames her for his conviction. In seconds, he knocks her to the ground and holds a razor blade to her throat. While she manages to escape without injury, it's just one more reminder that Mia's job prosecuting Seattle's s most dangerous criminals is far from low risk.As a single mom, the last thing Mia wants is for her work to follow her home or discover that it already has.
Now Detective Charlie Carlson is suggesting the very thing Mia doesn't want to believe—that her accountant husband's deadly car accident was no accident at all. When Mia and Charlie encounter resistance to reopening the case, they take the investigation into their own hands. And they find much more than they bargained for.
Was Mia's husband more than an accountant . . . and less than an honest man? As the truth becomes more shocking and the case grows more complex, her husband's killers take note of Mia . . . and her children. How far will this prosecutor go to learn the truth about her husband—and how far will she have to go to protect her family?
Review
This is the second book in the series and I've waited so long for it and was so excited when it came out!  And I must tell you, it was well worth the wait!  I love the main character, Mia, who is a prosecuting attorney, whose husband recently died. While it  was declared an accident, there is an air of mystery that is leading her to believe that his death was anything but accidental.  She is hit with so much in this book and we get to walk with her as she sorts it all out.  The book has a great deal of suspense in it, which kept me turning the pages well into the night. The author did a fantastic job with the plot and characters, making them interesting and believable.
 ~Reviewed by Rosie B.